Resin Art & Techniques Involved in Resin Art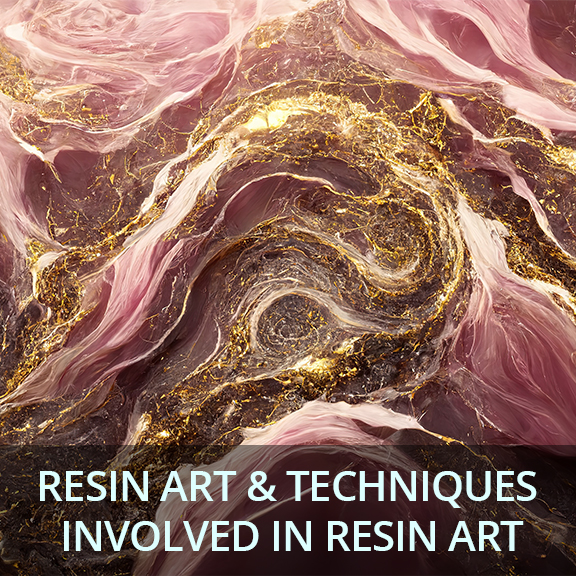 Resin art is a unique style of painting technique that utilizes a chemical called resin to create beautiful artwork. It is a creative and fun way of creating artwork.
This versatile technique of artwork is one of the most exciting mediums of art and has got so many amazing techniques to explore. With this art technique, you can easily create cool 2D and 3D objects.
What is Resin? How is it useful in creating Art?
The special material used in creating resin art is a combination of epoxy resin and hardener. A hardener is nothing other than an agent used to cure resin and transform the liquid resin into a kind of durable, solid state.
In resin art, this mixture is referred to as just resin or epoxy resin. The combination of these two substances results in a glossy material with a clear surface. This final product is the outcome of a chemical reaction taking place when the resin is mixed with hardener.
Resin is a liquid substance that can be easily mixed with a variety of colors to get the design of your choice. It can be used as a moldable material that blends with unique colors, resulting in distinct patterns. To get started in resin art, you only need a few materials such as a canvas, resin & hardener, and a set of colors.
The major advantage of resin art is that resin can be applied to a variety of objects like paper, wood, glass, metal, etc. Another benefit of this artwork is that, when dried, the resin & hardener mixture becomes strong and durable, and easy to use, which makes it a perfect choice to complement your paintings.
Techniques involved in Resin Art
An artist can rely on different methods to create a painting using resin art. Here are the major techniques commonly involved in resin art:
Resin Coating
Resin coating is a technique in which epoxy resin is applied directly over the surface of a painting to give a thin layer of coating to it. This method is used when you have to add a layer of protection to your painting. Within some hours, the mixture becomes hard and this thin coat of resin acts as a protective layer for the surface. It also adds a glossy finish to your painting.
Free Pouring
In the free pouring technique, you pour the mixture of resin and harder on a 2D or 3D surface. Resin can be poured over different items like boards and canvas to make a free-form type of art
of your choice. This method is simple and can be applied on any surface compatible with resin. The time taken for the resin to become hard can depend upon the thickness of the layer applied.
Resin Layering
As the name suggests, resin layering provides multiple layers of resin to the surface of an object. It is a multi-layer work of art that utilizes resin and acrylic pigments, layer upon layer to make beautiful artwork.
You can use this technique to create 3d objects by painting each layer. The basic idea is to apply a layer of resin on the surface you wish to coat. After that, when it becomes dry, you may paint your design on it. In the same way, you can apply another layer, paint and repeat the same until the product gets the desired finish. The more layers you paint, the more illusion of depth the 3D painting is going to receive.
Coloring Resin
It is one of the basic and most common techniques used in resin art. In this technique, you'll have to mix a color with the resin before pouring it on the surface. For this, you may even purchase colors that are specially designed and made of resin. By applying this technique, you can utilize various color pigments and easily create a blend of unique patterns and textures.
Resin Molding
Resin molding or resin casting is the method of pouring liquid resin into a cast (mold) and letting it completely dry to get the final product in the shape of the mold. In this method, the mold is filled with liquid epoxy resin which then hardens and gives the desired output. It is mostly used for creating 3D objects for commercial purposes, as well as a hobby for an artist. With this technique, a person can easily create their favorite figures, toys, and models.
The free-flowing patterns and unique designs make resin art an attractive piece of artwork. Gifting yourself and your loved ones with such beautifully crafted intricate art patterns contributes to a feeling of satisfaction. It not only shares the emotion of the artist who created it but also brings joy and an expression of appreciation at its purest.
Making art stand out is a process of commitment. To enjoy a piece of work, it must be visually appealing and satisfying. This is what makes Qube Art a great choice to consider. Qube Art brings you a plethora of visually appealing artworks that reflect quality. What we offer are world-class designs of resin art that reveal creativity, beauty and dedication to craftsmanship.